IMGT taxonomy tree: Eutheria (placentals)
IMGT taxonomy detailed trees
G : indicates an IMGT Taxonomy page containing links to NCBI Genome assemblies
| | |
| --- | --- |
| | Order |
| | Family |
| | A dotted rectangle indicates that the corresponding NCBI taxonomy level of classification is not shown in IMGT flat files (and therefore cannot be queried in IMGT/LIGM-DB). |
| | Brackets indicate a taxonomy level of classification not reported in the NCBI taxonomy. |
| | A non-limited vertical line indicates that there are more than 5 subdivisions |
Click on yellow rectangles to see detailed trees.
IMGT note:
The "Cetartiodactyla" NCBI taxonomy level of classification groups together the previously designated "Artiodactyla" and the "Cetacea".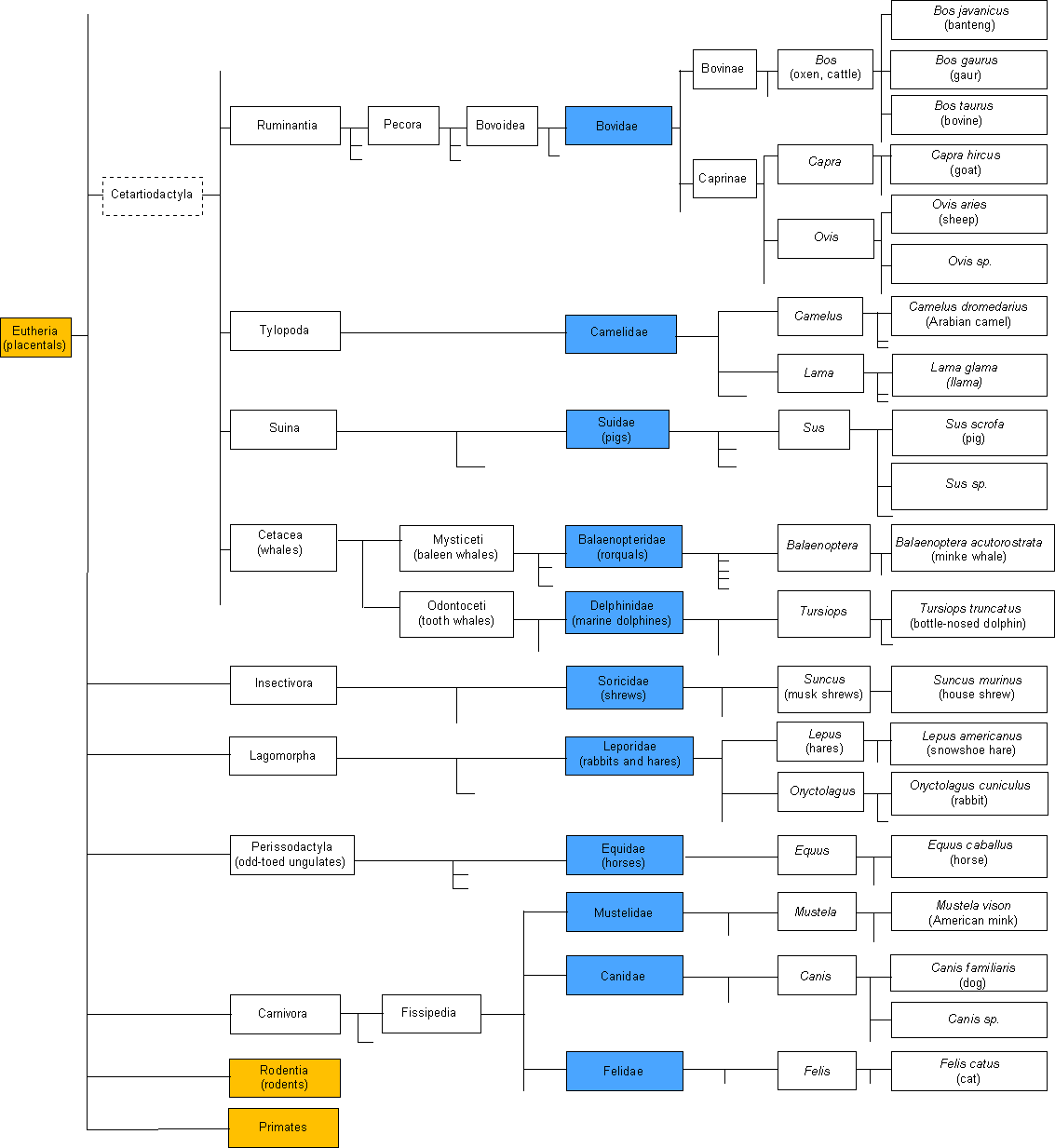 IMGT taxonomy detailed trees
G : indicates an IMGT Taxonomy page containing links to NCBI Genome assemblies
Links to NCBI Genome assemblies
Numbers between brackets for large taxons are only indicative (not automatically updated).
EUTHERIA (placentals)
CHIROPTERA
Lineage:
Eukaryota
[
2832
];
Metazoa
[
909
];
Chordata
[
394
];
Craniata
[
386
];
Vertebrata
[
386
];
Euteleostomi
[
380
];
Mammalia
[
158
];
Eutheria
[
153
];
Laurasiatheria
[
76
];
Chiroptera
[
15
];
Megachiroptera
[
4
];
Pteropodidae
[
4
];
Pteropodinae
[
4
];
Pteropus
[
2
];
Pteropus alecto
[
1
] (black flying fox)
ID: 12056
Megachiroptera
[
4
];
Pteropodidae
[
4
];
Pteropodinae
[
4
];
Pteropus
[
2
];
Pteropus vampyrus
[
1
] (large flying fox)
ID: 757
Microchiroptera
[
11
];
Phyllostomidae
[
1
];
Desmodontinae
[
1
];
Desmodus
[
1
];
Desmodus rotundus
[
1
] (common vampire bat)
ID: 15041
Microchiroptera
[
27
];
Phyllostomidae
[
7
];
Phyllostominae
[
3
];
Phyllostomus
[
1
];
Phyllostomus discolor
[
1
] (pale spear-nosed bat)
ID: 75334
Microchiroptera
[
31
];
Rhinolophidae
[
2
];
Rhinolophinae
[
2
];
Rhinolophus
[
2
];
Rhinolophus ferrumequinum
[
1
] (greater horseshoe bat)
ID: 10960
Microchiroptera
[
27
];
Vespertilionidae
[
10
];
Eptesicus
[
3
];
Eptesicus fuscus
[
1
] (big brown bat)
ID: 11703
Microchiroptera
[
11
];
Vespertilionidae
[
5
];
Myotis
[
3
];
Myotis lucifugus
[
1
] (little brown bat)
ID: 614
RUMINANTIA
Lineage:
Eukaryota
[
1218
];
Metazoa
[
438
];
Chordata
[
230
];
Craniata
[
225
];
Vertebrata
[
225
];
Euteleostomi
[
221
];
Mammalia
[
99
];
Eutheria
[
95
];
Laurasiatheria
[
47
];
Cetartiodactyla
[
21
];
Ruminantia
[
11
];
Pecora
[
11
];
Bovidae
[
16
];
Bovinae
[
6
];
Bos hybrids
[
1
];
Bos indicus x Bos taurus
[
1
] (hybrid cattle)
ID: 71455
Bovidae
[
9
];
Bovinae
[
5
];
Bos
[
3
];
Bos taurus
[
1
] (cattle) cow
ID: 82
Bovidae
[
14
];
Bovinae
[
6
];
Bubalus
[
1
];
Bubalus bubalis
[
1
] (water buffalo)
ID: 791
Bovidae
[
9
];
Caprinae
[
3
];
Capra
[
2
];
Capra hircus
[
1
] (goat) domestic goat
ID: 10731
Bovidae
[
9
];
Caprinae
[
3
];
Ovis
[
1
];
Ovis aries
[
1
] (sheep)
ID: 83
Bovidae
[
9
];
Antilopinae
[
1
];
Pantholops
[
1
];
Pantholops hodgsonii
[
1
] (chiru, Tibetan antelope)
ID: 10763
Cervidae
[
2
];
Odocoileinae
[
2
];
Odocoileus
[
1
];
Odocoileus virginianus
[
1
] (white-tailed deer)
ID: 3567
TYLOPODA
Lineage:
Eukaryota
[
1218
];
Metazoa
[
438
];
Chordata
[
230
];
Craniata
[
225
];
Vertebrata
[
225
];
Euteleostomi
[
221
];
Mammalia
[
99
];
Eutheria
[
95
];
Laurasiatheria
[
47
];
Cetartiodactyla
[
21
];
Tylopoda
[
4
];
Camelidae
[
4
];
Camelus
[
3
];
Camelus bactrianus
[
1
] (Bactrian camel)
ID: 10741
Camelidae
[
4
];
Camelus
[
3
];
Camelus dromedarius
[
1
] (Arabian camel)
ID: 10740
Camelidae
[
4
];
Vicugna
[
1
];
Vicugna pacos
[
1
] (alpaca)
ID: 905
SUINA
Lineage:
Eukaryota
[
1218
];
Metazoa
[
438
];
Chordata
[
230
];
Craniata
[
225
];
Vertebrata
[
225
];
Euteleostomi
[
221
];
Mammalia
[
99
];
Eutheria
[
95
];
Laurasiatheria
[
47
];
Cetartiodactyla
[
21
];
Suina
[
1
];
Suidae
[
1
];
Sus
[
1
];
Sus scrofa
[
1
] (pig)
ID: 84
CETACEA (whales)
Lineage:
Eukaryota
[
2575
];
Metazoa
[
852
];
Chordata
[
365
];
Craniata
[
357
];
Vertebrata
[
357
];
Euteleostomi
[
351
];
Mammalia
[
150
];
Eutheria
[
145
];
Laurasiatheria
[
69
];
Cetartiodactyla
[
31
];
Cetacea
[
8
];
Mysticeti
[
5
];
Balaenopteridae
[
1
];
Balaenoptera
[
1
];
Balaenoptera acutorostrata
[
1
] (minke whale)
ID: 10769
Odontoceti
[
5
];
Delphinidae
[
6
];
Globicephala
[
1
];
Globicephala melas
[
1
] (long-finned pilot whale)
ID: 15476
Delphinidae
[
5
];
Lagenorhynchus
[
1
];
Lagenorhynchus obliquidens
[
1
] (Pacific white-sided dolphin)
ID: 55713
Delphinidae
[
6
];
Orcinus
[
1
];
Orcinus orca
[
1
] (killer whale)
ID: 14034
Delphinidae
[
6
];
Tursiops
[
2
];
Tursiops truncatus
[
1
] (common bottlenose dolphin)
ID: 769
Monodontidae
[
1
];
Delphinapterus
[
1
];
Delphinapterus leucas
[
1
] (beluga whale)
ID: 13168
Monodontidae
[
2
];
Monodon
[
1
];
Monodon monoceros
[
1
] (narwhal)
ID: 7324
Phocoenidae
[
2
];
Neophocaena
[
1
];
Neophocaena asiaeorientalis
[
1
];
Neophocaena asiaeorientalis
asiaeorientalis (Yangtze finless porpoise)
ID: 36112
Phocoenidae
[
3
];
Phocoena
[
2
];
Phocoena sinus
[
1
] (vaquita)
ID: 84539
Physeteridae
[
1
];
Physeter
[
1
];
Physeter catodon
[
1
] (sperm whale)
ID: 13057
INSECTIVORA
Lineage:
Eukaryota
[
1218
];
Metazoa
[
438
];
Chordata
[
230
];
Craniata
[
225
];
Vertebrata
[
225
];
Euteleostomi
[
221
];
Mammalia
[
99
];
Eutheria
[
95
];
Laurasiatheria
[
47
];
Insectivora
[
3
];
Erinaceidae
[
1
];
Erinaceinae
[
1
];
Erinaceus
[
1
];
Erinaceus europaeus
[
1
] (western European hedgehog)
ID: 227
Talpidae
[
1
];
Condylura
[
1
];
Condylura cristata
[
1
] (star-nosed mole)
ID: 10849
LAGOMORPHES
Lineage:
Eukaryota
[
1218
];
Metazoa
[
438
];
Chordata
[
230
];
Craniata
[
225
];
Vertebrata
[
225
];
Euteleostomi
[
221
];
Mammalia
[
99
];
Eutheria
[
95
];
Euarchontoglires
[
39
];
Glires
[
18
];
Lagomorpha
[
2
];
Ochotonidae
[
1
];
Ochotona
[
1
];
Ochotona princeps
[
1
] (American pika)
ID: 771
Leporidae
[
1
];
Oryctolagus
[
1
];
Oryctolagus cuniculus
[
1
] (rabbit)
ID: 316
PERISSODACTYLA
Lineage:
Eukaryota
[
1218
];
Metazoa
[
438
];
Chordata
[
230
];
Craniata
[
225
];
Vertebrata
[
225
];
Euteleostomi
[
221
];
Mammalia
[
99
];
Eutheria
[
95
];
Laurasiatheria
[
47
];
Perissodactyla
[
3
];
Equidae
[
2
];
Equus
[
2
];
Equus
[
2
];
Equus caballus
[
1
] (horse)
ID: 145
Rhinocerotidae
[
1
];
Ceratotherium
[
1
];
Ceratotherium simum
[
1
];
Ceratotherium simum simum
[
1
] (southern white rhinoceros)
ID: 24631
CARNIVORA
Lineage:
Eukaryota
[
3135
];
Metazoa
[
1053
];
Chordata
[
492
];
Craniata
[
483
];
Vertebrata
[
483
];
Euteleostomi
[
477
];
Mammalia
[
170
];
Eutheria
[
165
];
Laurasiatheria
[
84
];
Carnivora
[
21
];
Caniformia
[
15
];
Canidae
[
3
];
Canis
[
2
];
Canis lupus
(gray wolf) [
2
] Canis lupus dingo (dingo)
ID: 365
Caniformia
[
10
];
Canidae
[
2
];
Canis
[
1
];
Canis lupus
[
1
];
Canis lupus familiaris
[
1
] (dog)
ID: 85
Caniformia
[
18
];
Canidae
[
4
];
Vulpes
[
1
];
Vulpes vulpes
[
1
] (red fox)
ID: 8035
Caniformia
[
11
];
Mustelidae
[
2
];
Lutrinae
[
1
];
Enhydra
[
1
];
Enhydra lutris
[
1
] Enhydra lutris kenyoni (sea otter)
ID: 8272
Caniformia
[
33
];
Mustelidae
[
11
];
Lutrinae
[
4
];
Lontra
[
1
];
Lontra canadensis
[
1
] (Northern American river otter)
ID: 87021
Caniformia
[
7
];
Mustelidae
[
1
];
Mustelinae
[
1
];
Mustela
[
1
];
Mustela putorius
[
1
];
Mustela putorius furo
[
1
] (domestic ferret)
ID: 3295
Caniformia
[
7
];
Odobenidae
[
1
];
Odobenus
[
1
];
Odobenus rosmarus
[
1
];
Odobenus rosmarus divergens
[
1
] (Pacific walrus)
ID: 14031
Caniformia
[
18
];
Otariidae
[
2
];
Callorhinus
[
1
];
Callorhinus ursinus
[
1
] (northern fur seal)
ID: 8044
Caniformia
[
27
];
Otariidae
[
4
];
Eumetopias
[
1
];
Eumetopias jubatus
[
1
] (Steller sea lion)
ID: 7202
Caniformia
[
20
];
Otariidae
[
3
];
Zalophus
[
1
];
Zalophus californianus
[
1
] (California sea lion)
ID: 13313
Caniformia
[
7
];
Phocidae
[
1
];
Leptonychotes
[
1
];
Leptonychotes weddellii
[
1
] (Weddell seal)
ID: 10491
Caniformia
[
10
];
Phocidae
[
2
];
Neomonachus
[
1
];
Neomonachus schauinslandi
[
1
] (Hawaiian monk seal)
ID: 8042
Caniformia
[
7
];
Ursidae
[
3
];
Ailuropoda
[
1
];
Ailuropoda melanoleuca
[
1
] (giant panda)
ID: 2702
Caniformia
[
19
];
Ursidae
[
4
];
Ursus
[
3
];
Ursus arctos
[
1
] (brown bear)
ID: 23993
Feliformia
[
6
];
Felidae
[
5
];
Acinonychinae
[
1
];
Acinonyx
[
1
];
Acinonyx jubatus
[
1
] (cheetah)
ID: 14623
Feliformia
[
2
];
Felidae
[
2
];
Felinae
[
1
];
Felis
[
1
];
Felis catus
[
1
] (domestic cat)
ID: 78
Feliformia
[
18
];
Felidae
[
11
];
Felinae
[
6
];
Lynx
[
2
];
Lynx canadensis
[
1
] (Canada lynx)
ID: 41316
Feliformia
[
6
];
Felidae
[
5
];
Felinae
[
2
];
Puma
[
1
];
Puma concolor
[
1
] (puma)
ID: 12225
Feliformia
[
18
];
Herpestidae
[
3
];
Suricata
[
1
];
Suricata suricatta
[
1
] (meerkat)
ID: 75167
AFROTHERIA
Lineage:
Eukaryota
[
1218
];
Metazoa
[
438
];
Chordata
[
230
];
Craniata
[
225
];
Vertebrata
[
225
];
Euteleostomi
[
221
];
Mammalia
[
99
];
Eutheria
[
95
];
Afrotheria
[
7
];
Chrysochloridae
[
1
];
Chrysochlorinae
[
1
];
Chrysochloris
[
1
];
Chrysochloris asiatica
[
1
] (Cape golden mole)
ID: 11841
Macroscelidea
[
1
];
Macroscelididae
[
1
];
Elephantulus
[
1
];
Elephantulus edwardii
[
1
] (Cape elephant shrew)
ID: 11843
Proboscidea
[
1
];
Elephantidae
[
1
];
Loxodonta
[
1
];
Loxodonta africana
[
1
] (African savanna elephant)
ID: 224
Tenrecidae
[
1
];
Tenrecinae
[
1
];
Echinops
[
1
];
Echinops telfairi
[
1
] (small Madagascar hedgehog)
ID: 234
Sirenia
[
1
];
Trichechidae
[
1
];
Trichechus
[
1
];
Trichechus manatus
[
1
];
Trichechus manatus latirostris
[
1
] (Florida manatee) West Indian manatee
ID: 24630
Tubulidentata
[
1
];
Orycteropodidae
[
1
];
Orycteropus
[
1
];
Orycteropus afer
[
1
] (aardvark)
ID: 11840
Hyracoidea
[
1
];
Procaviidae
[
1
];
Procavia
[
1
];
Procavia capensis
[
1
] (Cape rock hyrax)
ID: 2488
XENARTHRA
Lineage:
Eukaryota
[
1218
];
Metazoa
[
438
];
Chordata
[
230
];
Craniata
[
225
];
Vertebrata
[
225
];
Euteleostomi
[
221
];
Mammalia
[
99
];
Eutheria
[
95
];
Xenarthra
[
2
];
Cingulata
[
1
];
Dasypodidae
[
1
];
Dasypus
[
1
];
Dasypus novemcinctus
[
1
] (nine-banded armadillo)
ID: 235
Pilosa
[
1
];
Folivora
[
1
];
Megalonychidae
[
1
];
Choloepus
[
1
];
Choloepus hoffmanni
[
1
] (Hoffmann's two-fingered sloth)
ID: 907
Lineage:
Eukaryota
[
1218
];
Metazoa
[
438
];
Chordata
[
230
];
Craniata
[
225
];
Vertebrata
[
225
];
Euteleostomi
[
221
];
Mammalia
[
99
];
Eutheria
[
95
];
Euarchontoglires
[
39
];
Glires
[
18
];
Rodentia
[
16
];
Lineage:
Eukaryota
[
1165
];
Metazoa
[
430
];
Chordata
[
228
];
Craniata
[
223
];
Vertebrata
[
223
];
Euteleostomi
[
219
];
Mammalia
[
99
];
Eutheria
[
95
];
Euarchontoglires
[
39
];
Primates
[
18
];