Unproductive transcript from MOPC21 cell line
Frequent amplification of the unproductive rearranged kappa variable IGKV-J gene from MOPC21, is observed during PCR of V genes from hybridomas.
References and accession numbers for the sequence of the unproductive rearranged IGKV-J from MOPC21:
Strohal, R. et al., Nucleic Acids Res., 15, 2771 (1987). PMID: 3104882
Carroll, W. L. et al., Molecular Immunology, 25, 991-995 (1988). PMID: 3146025
Accession numbers: X05184, K00888 (g), M35669 (IMGT/LIGM-DB).
This unproductive rearranged IGKV-J transcript is found in the MOPC21-derived fusion partners (mouse myeloma cells) such as NS-1, P3-X63-Ag8.653, SP2/0 and P3U1 (P3X63Ag8U.1).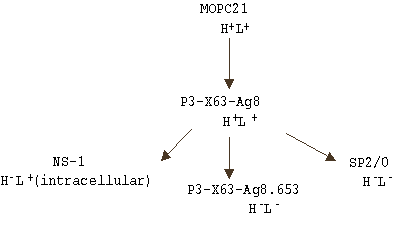 H+ and L+ indicate the expression of the productive Ig heavy and light transcripts in MOPC1 and P3-X63-Ag8. H- and L- indicate the absence of expression of the endogenous productive transcripts in the MOPC1 derived fusion partners. However the unproductive rearranged kappa transcript is still found.
In NS0, a non-IG secreting H-L- cell line, derived from NS-1, a frameshift mutation in the L-KAPPA mRNA is responsible of the loss of the kappa chain expression. Hybridomas made with NS0 contain this unproductive transcript.
Different approaches have been proposed to eliminate the unproductive transcript:
Ribozyme cleavage: Duan, L. and Pomerantz, R. J., Nucleic Acids Res., 22, 5433-5438 (1994). PMID: 7816635
Antisense-directed RNase H digestion: Ostermeier, C. and Michel, H., Nucleic Acids Res, 24, 1979-1980 (1996). PMID: 8657583
Restriction enzyme digestion step using BciVI: Juste M. et al., Anal. Biochem., 349, 159-161 (2006). PMID: 16325758