The Sheep (Ovis aries) TRG locus is organized in two loci located on chromosome 4 [1, 2].
The TRG1@ locus at position 4q3.1 (102.8 cM) is syntenic to the human TRG locus at 7p14.
The TRG2@ locus at position 4q2.2 (64.9 cM) is a peculiarity of the bovidae (cattle and sheep).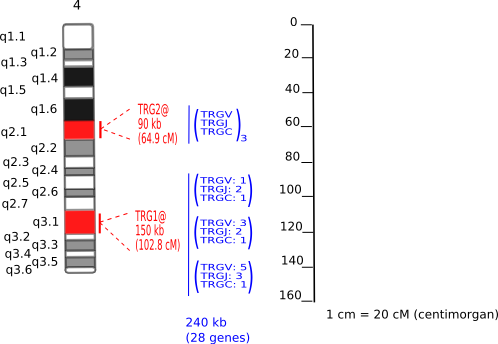 IMGT references:

[1] Vaccarelli G. et al. Gene 357, 103-114 (2005). PMID:16125878
[2] Miccoli M. C. et al. J. Mol. Evol. 57, 52-62 (2003). PMID:12962306
[3] Vaccarelli, G. et al., BMC Genomics., 9:81 (2008). PMID:18282289
More information:
Created:

19/10/2006

Last updated:

29/06/2011

Authors:

Yan Wu and Marie-Paule Lefranc