Collier de perles: Human TRA V-J REGION from TcR ab A6 (PDB: 1ao7 )

IMGT/3Dstructure-DB card: 1ao7

Side view (backbone model)
Complex TcR ab A6/Tax/HLA-A*0201 (backbone model)
View from above the CDRs (backbone model)
Collier de Perles: Human TRB V-D-J REGION


Human rearranged TRAV12-2 - TRAJ24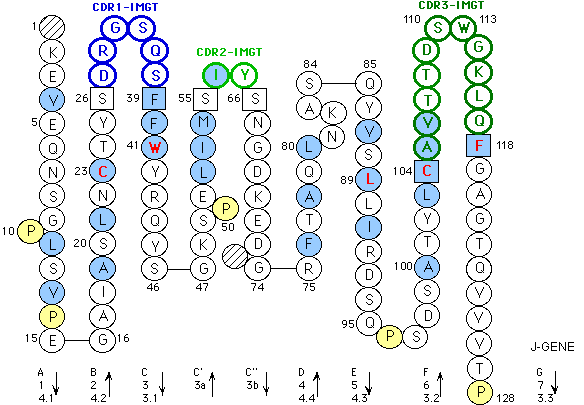 Legend:
Amino acids are shown in the one-letter abbreviation.
Hydrophobic amino acids (hydropathy index with positive value) and Tryptophan (W) found at a given position in more than 50 % of analysed Ig and TcR sequences are shown in blue.
All Proline (P) are shown in yellow.
The CDR-IMGT are limited by amino acids shown in squares, which belong to the neighbouring FR-IMGT. The CDR3-IMGT is described using the IMGT unique numbering for V-DOMAIN.
Hatched circles or squares correspond to missing positions according to the IMGT unique numbering for V-REGIONs. Missing positions of the CDRs are not shown in this representation.
Arrows indicate the direction of the beta strands and their different designations in 3D structure.
For the TcR, the proteolytic cleavage site between the leader peptide and the V-REGION is putative and the assignment of amino acid 1 to one or the other region is uncertain.
---
Created: 19/12/1997
Last updated: Wednesday, 20-Jan-2021 08:25:00 CET
Authors: Manuel Ruiz, Elodie Foulquier and Marie-Paule Lefranc
Editors: Elodie Foulquier and Marie-Paule Lefranc