Structural and biological properties of human immunoglobulins
List of figures
Print of this table: Lefranc, M.-P. and Lefranc, G., The Immunoglobulin FactsBook, Academic Press, London, UK (458 pages), 2001, ISBN:012441351X
2.
Human immunoglobulin (IG) chain characteristics
3.
IG interchain disulfide bridges per monomer
4.
Lysines and cysteines of the Homo sapiens IGHG1, IGKC and IGLC1 and positions in the C-DOMAIN
5.
Amino acid positions involved in ADCC, ADCP, CDC, half-life and half-IG exchange
6.
IMGT engineered variant nomenclature: IGHG variants
7.
Homo sapiens IGHG1 amino acids involved in the interactions with the C1q, FcγR and FCGRT
Properties
Human IG classes and subclasses
IgM
IgD
IgG
IgA
IgE
IgG1
IgG2
IgG3
IgG4
IgA1
IgA2
Molecular weight of secreted form (kDa) (1)
950 (p)
170-180
150
150
155-165
150
160 (m)
300 (d)
160 (m)
350 (d)
190
Chain composition
(κ2μ2)5
or
(λ2μ2)5
κ2δ2
or
λ2δ2
κ2γ12
or
λ2γ12
κ2γ22
or
λ2γ22
κ2γ32
or
λ2γ32
κ2γ42
or
λ2γ42
(κ2α12)1-2
or
(λ2α12)1-2
(κ2α22)1-2
or
(λ2α22)1-2
κ2ε2
or
λ2ε2
Functional valency (nb of antigen binding sites)
5 or 10
2
2
2 or 4
2
Structure (2)
monomer (mb) pentamer (s)
monomer (mb, s)
monomer (mb, s)
monomer (mb, s) dimer (sec)
monomer (mb, s)
Inter-heavy (H-H) disulfide bridges per monomer (positions)
1
1
2
4
11
2
2
1
Other chain
J chain
(16 kDa)
-
-
J chain (16 kDa), secretory component (70 kDa)
-
Sedimentation coefficient in Svedberg unit (S)
18-20
7
6.5-7.0
7, 10, 13, 15, 17
7.9
Carbohydrate average (%)
10-12
9-14
2-3
7-11
12-13
Adult level range (age 16-60) in serum (g/L) (3)
0.25-3.1
0.03-0.4
5-12
2-6
0.5-1
0.2-1
1.4-4.2
0.2-0.5
0.0001-0.0002
8.0-16.8
Approximate % total IG in adult serum
(% of the subclass in the class)
10
0.2
45-53
(70-80)
11-15
(18-23)
3-6
(6-8)
1-4
(2-6)
11-14
(90)
1-4
(10)
0.004
Synthetic rate (mg/kg Weight/day)
3.3
0.2
33
33
33
33
19-29
3.3-5.3
0.002
Biological half-life (day)
5-10
2-8
21-24
21-24
7-8
21-24
5-7
4-6
1-5
Transplacental transfer
0
0
++
+
++
++
0
0
0
Complement activation classical pathway (C1q)
+++
0
++
+
+++
0
0
0
0
Complement activation alternative pathway
0
0
0
0
0
0
+
0
0
Binding macrophages and other phagocytic cells (FcγR or FCGR) (4)
0
+
+++
+/-
+++
+/-
0
0
0
Binding to mast cells and basophils (FcεR or FCER)
0
0
0
0
0
0
0
0
+++
Binding to epithelial poly-IG receptor
+
0
0
0
0
0
+++
+++
0
Reactivity with Staphyloccus protein A
0
0
++
++
(0)a
++
0
0
0
Notes:

| | |
| --- | --- |
| a | IgG3 allotype dependent |
| (1) | Approximate molecular weight (m=monomer, d=dimer, p=pentamer) |
| (2) | mb=membrane, s=secreted, sec=secretory (see The Immunoglobulin FactsBook). Human immunoglobulin chain characteristics (here) |
| (3) | Total IG adult level range (age 16-60) in serum: 9.5-21.7 g/L |
| (4) | +/- : binding depends on the FCGR isotype and on the cell type (see The Immunoglobulin FactsBook) |
Schematic representation of the 5 IG classes and subclasses
Membrane IG are shown. Click on the links for representation of secreted IG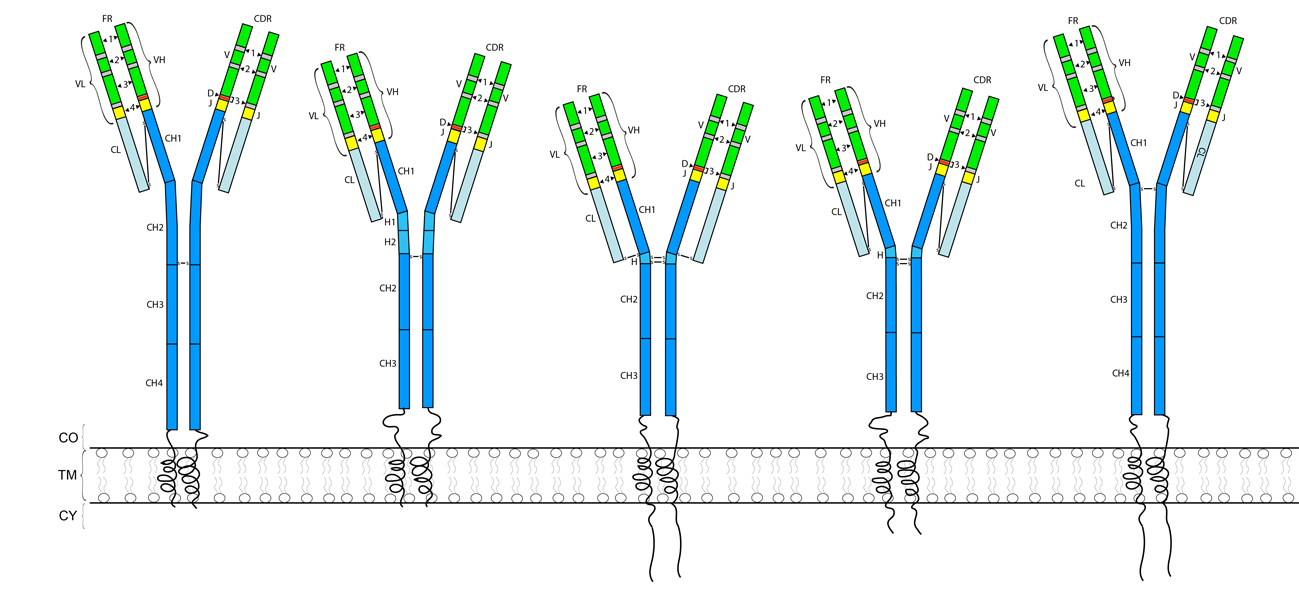 See also:
Created:

18/05/2004

Last updated:

01/06/2021

Authors:

Souphatta Sasorith, Valérie Thouvenin and Marie-Paule Lefranc

Editor:

Chantal Ginestoux